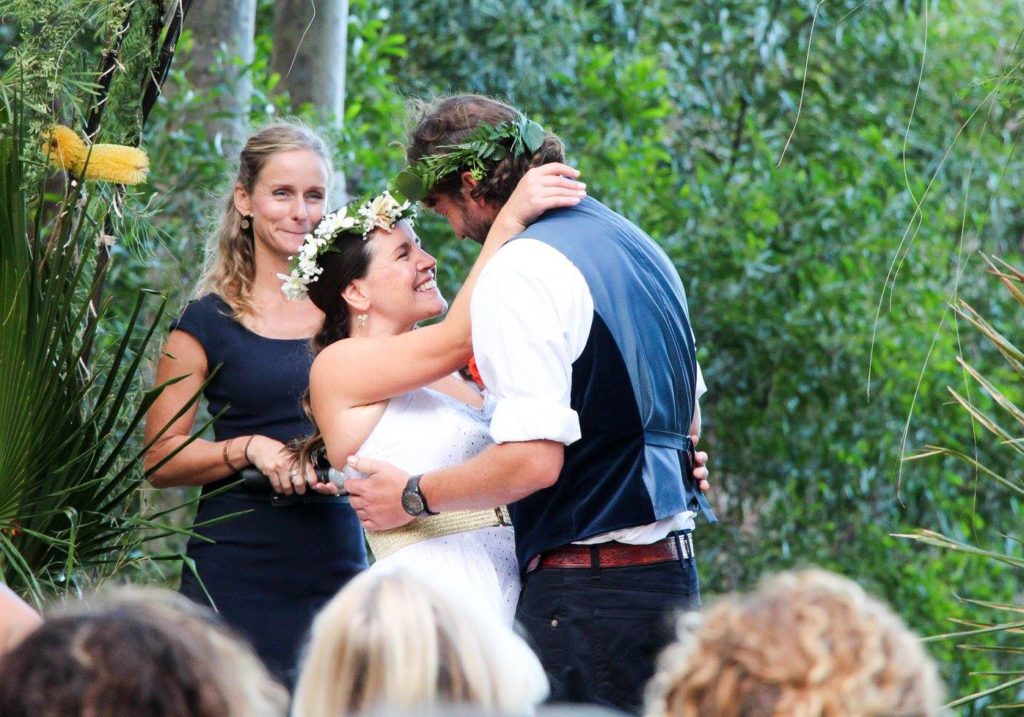 Hanabeth and Kieran
"Our hopes for our wedding were to have a fun and love- filled ceremony that included and acknowledged all of our wonderful guests in our love and celebration. We wanted to honour the Celtic traditions of both our bloodlines, as well as the land and community we are a part of, including its' traditional custodians. We are not religious, but hold enormous value in the beauty and power of nature, so we wanted to draw these elements into our ceremony through our words and clear intentions.
After meeting with Susie, we knew she was perfect to do all this. She provided excellent material relating to the ideas we had described, and it took a little time but, with Susies help, we selected the wording that best resonated with us for our vows, blessings and the handfasting ceremony. Susie pulled all of this together, creating a beautiful, meaningful and truly unique wedding ceremony. We have been told by many of our guests that this was one of the most memorable and wonderful weddings they had witnessed.
Susie was an integral part of this, facilitating a magical ceremony where our guests were swept along with the words, music and joy of the day."
Angie and Tom
"Our Wedding Ceremony was perfect thanks to Susie's presence and creativity. The Ceremony was so important to Tom and I, so much that we knew there was no one else we would have rather come to our Tropical celebration in Bali.
Through all the planning Susie had a gentle and guiding approach, with advice and ideas that we loved and incorporated into our ceremony. I have to say I think every single person who celebrated with us commented on the ceremony, saying that is was unique and heartfelt. Susie has a deep understanding of the importance or ritual and weaves her own magic into the ceremony with a sense of depth and a sense of fun at the perfect moments. We included a guided meditation, which Susie delivered beautifully, there were even Balinese drums from the local temple playing in the background, but we have to say that was just perfect timing.

A massive heartfelt thank you to Susie. I can honestly say that although it held the most meaning and anticipation for me, the ceremony was the easiest part of the Wedding planning.

Love and gratitude,
Ange and Tom."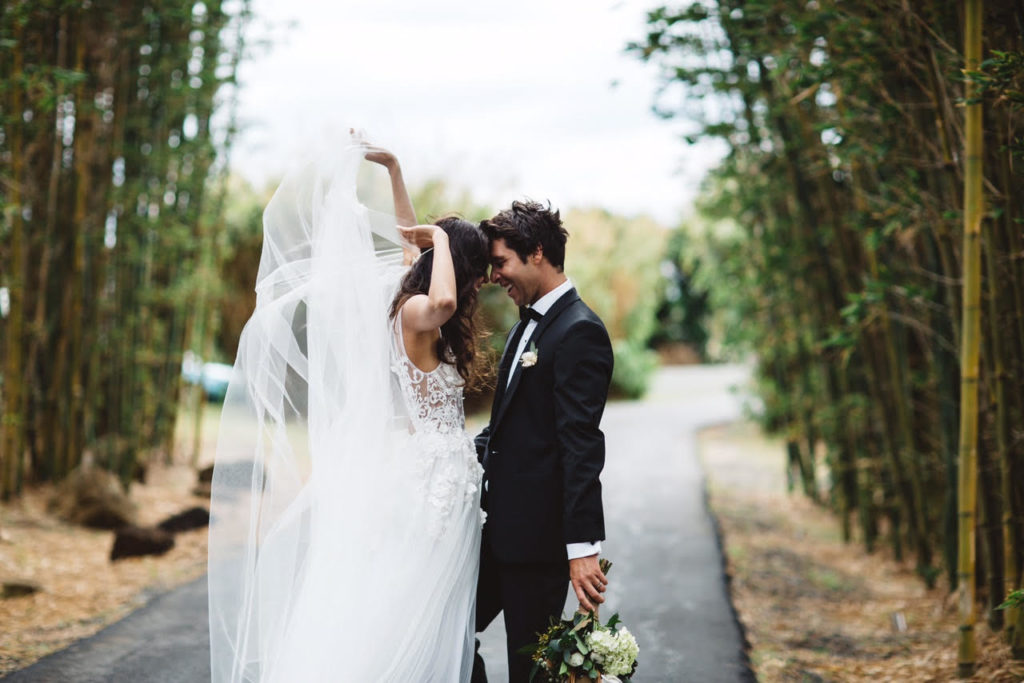 Kym and Dane
"Honestly, the ceremony you put together for us was magic, absolute magic. There was nothing to add, nothing to make better, just perfect— simply mind blowing your ability to curate and execute such an intimate experience based on two people you've really just met.
We will forever be grateful for having you in our lives, even just for one day, you are amazing at what you do!"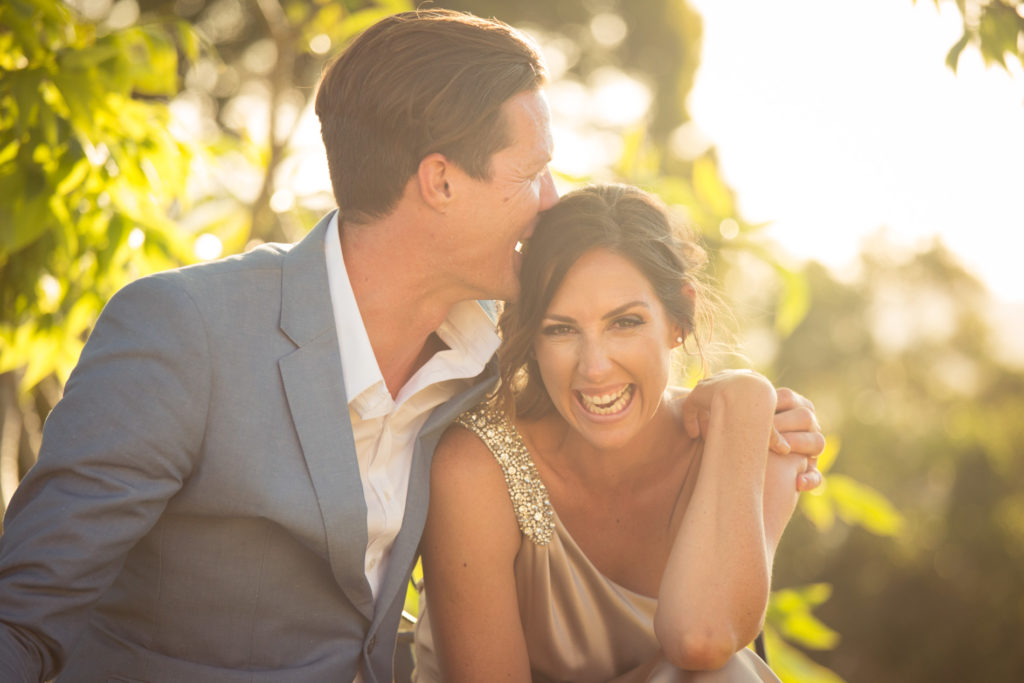 Ethan and Michelle
"From our first meeting with Susie, we knew we wanted her to be a part of our wedding.
She exudes calm and has a genuine interest in other's lives that goes far beyond mere professional courtesy. Her process in shaping our ceremony was instrumental in helping us voice our true reasons for marriage, and made us reflect on the reasons we wanted to spend the rest of our lives with each other. And this path of discovery isn't forced or contrived with Susie, her relaxed demeanor and approach continues from the first meeting to the end of the ceremony.
As atheists, Susie was fantastic in suggesting elements for the ceremony that elevated our wedding beyond mere civil union. The structure and pacing of the wedding was superb, never rushed or preachy but still incorporating a wonderful sense of occasion to really make it our special day.  Her performance in front of our guests was confident but relaxed, perfectly fitting our Byron Bay location.
All our guests thought she was fantastic, but never stole the limelight, and long will the memories of this wonderful day live on for my wife and I."
Jasmine and Phil
"Susie, we can't thank you enough for playing one of the most important roles on our wedding day. From the moment we met you (via Skype!), we knew you were the right person to marry us. You were so friendly, so helpful in the preparation phase and provided us with all the info and advice we needed."
We wanted a beautiful, relaxed Byron wedding, and you were the perfect match for us. You spoke so calmly, so professionally. I have received so many comments from guests about how beautiful the ceremony was which is obviously a reflection of how well you did your job. Thank you thank you thank you!"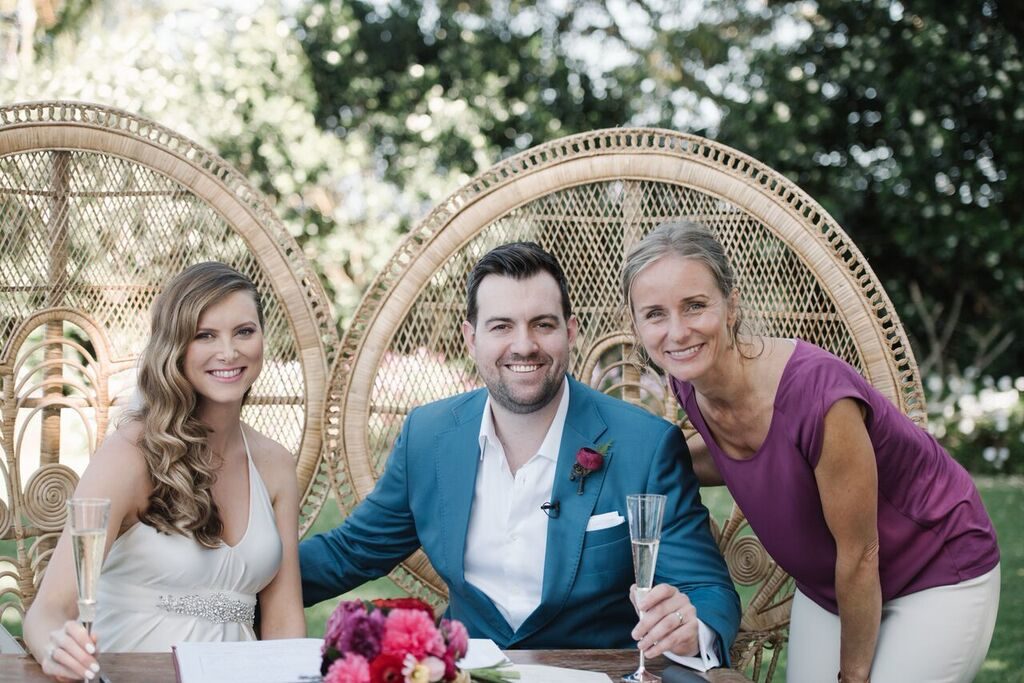 Talia and Kieran
"We are so glad that we chose Susie to be our celebrant – as soon as we met her we knew she was someone special. She showed a real interest in us as a couple and in our story – and this came across beautifully in the ceremony. Our guests loved that the proceedings were so "us" – so genuine and honest and real.
We received glowing reviews, and there has been a subsequent booking of Susie due to a friends recommendation of her after our wedding! All of our dealings with Susie were very positive – she is friendly and relaxed, yet suitably professional and is clearly passionate about her work. Flexible and adaptable to your needs, she knows what makes a great ceremony, what works and what doesn't, and provides some inspiring suggestions. The memories of our wedding ceremony are so special, and if we could do it again, there is not a thing we would change.
Thank you so much, Susie for being an absolute delight. Your warmth, grace, and serene nature made you the perfect person to preside over our nuptials."
Cary and Steve
"We would like to say how happy we are with the way our ceremony turned out.
Susie was relaxed and professional throughout the service and was very accommodating. She really got to know us and created a ceremony that was beautiful, personal, intimate and romantic. It was everything we hoped and more.
Thank you so much Susie"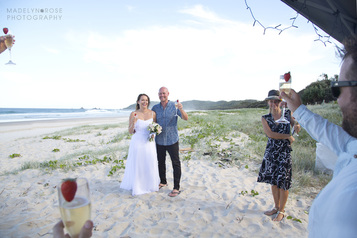 Emaa and James
"After deciding to travel from the UK to marry in Australia our choice of celebrant was based on online profiles. We settled on Susie and she proved to be a perfect celebrant.
Susie is a great communicator and after our first meeting it was clear she understood our vision of the day. She is both professional and personable which ensured the ceremony met all of our expectations."
Zare and Lindsay
"Susie gave us so much great material to reference in writing our ceremony and made some very special, important inclusions that we hadn't considered, but that ultimately meant a great deal to us.
Her manner and delivery on the day was wonderful. We just had the sweetest ceremony. She was flexible, easy-going and patient. We are so happy to recommend her services, and are sure she could adapt to and support any couple's needs.
Thanks again Susie!"
Ruby and Pete
"Susie… I wanted to write and let you know that that you did the best job ever on our big day. You calmed my nerves, you rolled with the punches and you carried the ceremony at a pace that allowed us all to be as present as possible!
You were an excellent 'link' between our diverging families and you were SO cool, calm and collected throughout what must have been a pretty whacky confluence of different religions/families/backgrounds that were brought to bear on the ceremony!
The feedback I got from others for you "was similarly fantastic Everyone was really impressed with how you carried the ceremony and had such impeccable timing on everything… our friends really loved the 'elbow holding bit!!'
I would definitely recommend you to anyone and everyone that ever wants to get married.. you were EXCELLENT.. on the day and leading up to it.. thank you thank you thank you!"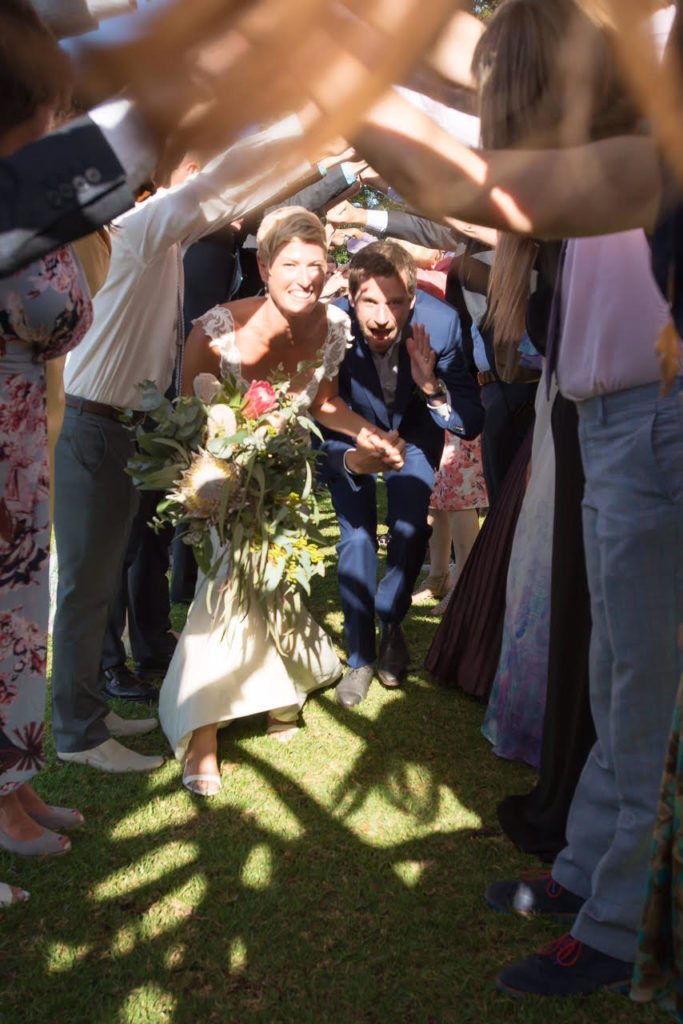 Simone and Tomas
"Susie did such a wonderful job for our wedding.
We loved building the ceremony with her and the end result was that it felt so personal and unique. Everyone loved it and commented on how natural, light hearted and perfectly-us the ceremony was.
Thanks Susie! It was a pleasure working with you."
Morgan and James
"Looking back on our day, the ceremony was definitely the best part! I have had so many people say it was the best wedding they had been to and the ceremony was so intimate and they felt they were such a part of it.
It was intimate and personal and very us. Nothing was taken too seriously… or too lightly and even though we had 100 guests it felt like we were just surrounded by a few close friends and family because of the warm environment your ceremony created.
I want to thank you sincerely for such a wonderful job. Your calm, serene nature was so refreshing leading up to the wedding in such stressful times. You listened to what we wanted and really made it a true reflection of us.
I feel very blessed to have had you be apart of our day. Thank you again Susie."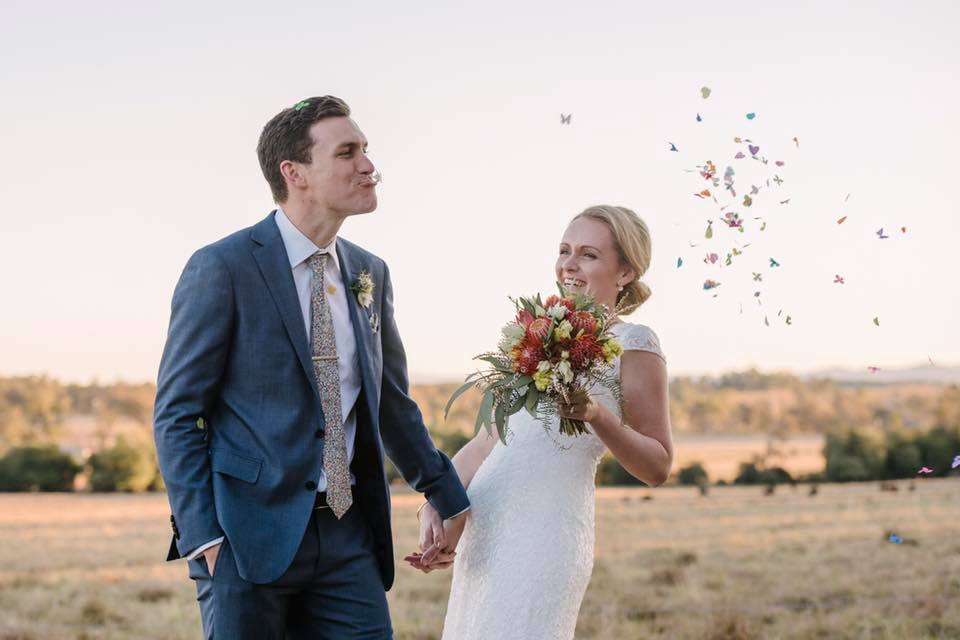 Lucy and Rob
"Susie was the perfect celebrant to marry us. We couldn't have been happier with the extremely personal and memorable ceremony that she put together.
So many of our guests commented on what a wonderful job Susie did in capturing our story and personalities in the ceremony. Susie made it all so easy from our first meeting."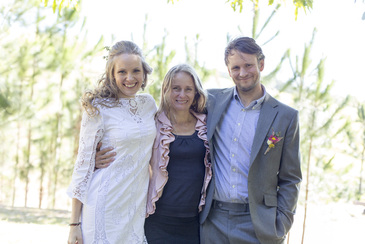 Laura and Bill
"We knew we wanted Susie to marry us as soon as we made contact with her. She has a naturally friendly, open and grounding character.
She gently guided us through choosing how we wanted the ceremony to look and presented us with great advice to help us write our vows. Whenever we're tired or experiencing the challenges of everyday life, we return to our vows and the loving intention we set through them.
I've attached one of my favourite photos from our wedding day, I love the joy shining from our faces!
Thank you for being a part of our union and guiding us so sincerely through it."
Kieran and Liz
"Keiran and I love each other a great deal but we're not used to verbalising it the way you need to for a wedding ceremony, and neither of us are very poetic!
With your help and ceremony inspiration material we had a wedding that really expressed how we feel about each other and what marriage means to us.
The ceremony was perfect for us and we couldn't have done it without you. Thank you for giving us the best possible start to our life together!"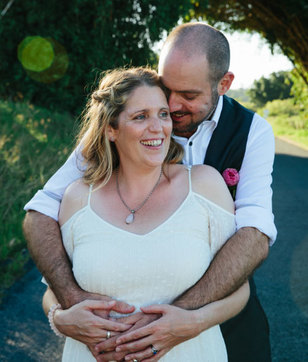 Jemma and Paul
Susie was absolutely excellent, we would highly recommend her!
We clicked straight away which was great as it was really important to us that we had a lot of rapport and shared values with our celebrant. From the outset it was obvious that Susie is highly professional, organised and most importantly incredibly passionate about what she does. She immediately made us feel comfortable, showed a real and genuine interest in our "love story" and worked with us to create the ideal ceremony we had envisioned.
Susie collaborated with us to create a unique and spiritual ceremony that was delivered superbly on the day. We felt confident throughout the entire journey that she had everything under control, and she absolutely captured the feelings of love we so wanted.
We are extremely grateful for Susie's assistance, hard work and passion leading up to and on our wedding day. We can't thank her enough!"
Katie and James
Susie, thank you so much for delivering such a beautiful ceremony. It really was amazing and yes so happy we managed to have it outdoors and the sun even came out. Couldn't have asked for more.
Your material that you sent us was so helpful, lots of variations to let us adapt to exactly what we wanted for the ceremony and we got great feedback from all our guests about how relaxed and heartfelt it was.
It was a great feeling to express in front of all our close friends and family how we feel for each other, thank you for keeping us calm and relaxed during the ceremony. You definitely deliver a sense of warmth and joy."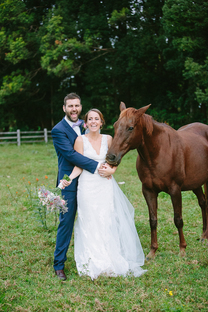 Kate and Peter
"Susie, We just wanted to say a huge huge thank you for our wonderful ceremony yesterday. We enjoyed it so much, it was perfect.
So many people mentioned how great it was and thought it was perfectly "us".
So thank you very much for that. Mr and Mrs Neeskens!!"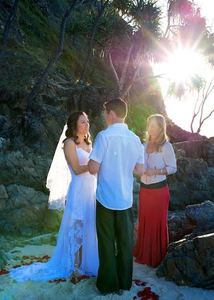 Carmen and Grant
"My husband and I both felt an immediate connection with Susie when we spoke to her on the phone for the first time.
I felt that she instantly just got what we were after straight away and sure enough, our wedding day was the most spectacular, stunning, spiritual and amazing day of my life, second to the births of my 3 children.
Susie played a huge role in helping us find our magical location and gave us a huge variety of ceremony options to choose from. We were able to feel like it was all there made perfect just for us. Everything you ever want for your wedding day!
I highly recommend Susie if you want a down to earth, caring, open minded and professional wedding celebrant."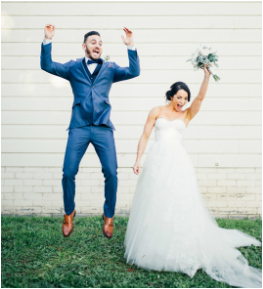 Jana and Paul
"Susie, thank you for making our ceremony so special and something we proudly shared with our friends and family.
Everyone who joined us said it was magical, romantic, personal and like nothing they'd been to before.
Without your hard work and advice it never would have happened in this way."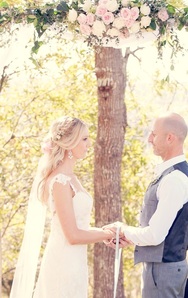 Hayley and Dan
"You were such a wonderful celebrant, we both just loved our ceremony and the feeling of it, it was the highlight of our day. Especially reading our vows to each other, such a surreal and beautiful experience. Thank you so much.
Our guests thought you were wonderful too, many of them commenting at how lovely you were and what a beautiful feeling the ceremony had."
Georgie and Nick
"Susie, from the moment we had our first Skype chat with you, we knew that you were the perfect person to marry us.
You showed so much interest in our story and guided us both to create a ceremony that reflected who were are and what we felt most passionately about.
You guided us with care and honesty and we so appreciate the time and effort you put in to help bring such an important part of our lives to reality."